Open House and Gift Shop Sale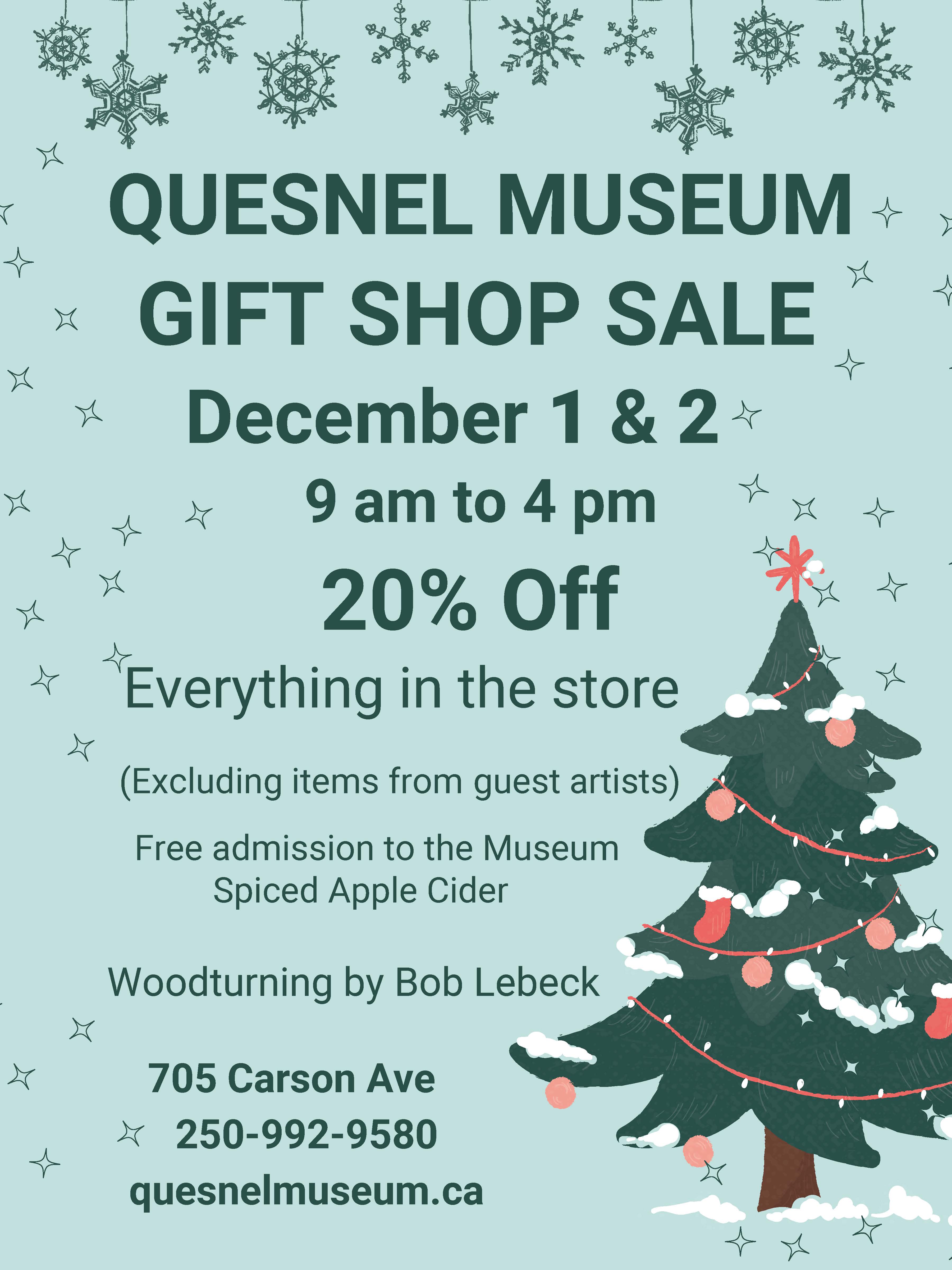 Ongoing Events
Our staff participates in many annual community events and hosts regular events  at the Museum.
We host presentations about recent historical publications and topics of interest. Admission is by donation and often books are available for purchase. Watch upcoming events for announcements.

The Museum contributes to many community events throughout the year. Here are a few at which you can join our staff: Canada Day, National Indigenous Peoples Day, the Children's Festival, Billy Barker and Cultural Days.

The Friends of the Museum hosts an annual book sale the first Saturday in May. In alternate years there is also an "Antiques and Uniques" sale. This is the primary fund raising event for the Friends of The Museum who help finance programs and special projects.

The Museum accept donations of used books, puzzles and DVDs during April. We do not accept encyclopedias, text books, Reader's Digests, self- help books, magazines or VHS tapes. For large loads please contact the museum in advance (250-992-9580).

Thank you for your generous support.

 

We offer group walking tours on a reservation basis. You can join a guide for a tour of Quesnel's Pioneer Cemetery or Historic Downtown Walk. Discover the Cariboo through the stories of the pioneers who settled the region and left their mark on our community.

Groups who would like to book a guided tour of Quesnel's Pioneer Cemetery or the Downtown Walking Tour, please contact the museum at least one week in advance.

Cost is $5.00 per person with a minimum charge of $30 per group. The cost includes a copy of the printed cemetery or heritage walking tour booklet for each participant.  Individuals can purchase booklets for $1- $2 in the museum gift shop and take a self guided tour. 

Contact the museum at 250-992-9580 or here.

During the winter of 2021 the Friends of the Quesnel Museum Hosted  the Remembering the North Cariboo series via zoom.  You can view a sample of past sessions via the links below.  ( NB.  These are raw, unedited sessions with all our technical challenges on display!) Keep an eye out for upcoming sessions in this series in the winter of 2022.

Thursday January 14th - Remembering Quesnel Junior/Senior High School 

Thursday February 11th - Remembering the North Cariboo's Medical history.  Dr. John Havens will help lead the discussion and will share stories about the changes he has observed during his years of practice in Quesnel. 

Thursday March 11th - Remembering Fur Trapping in the North Cariboo.  Jeff Dinsdale will explore the importance of trapping to supplement incomes and sustain families up to the present day.  

Thursday April 8th - Susan Smith-Josephy will discuss Cataline:  Uncovering the Life of BC's Legendary Packer.